Driver's License Practice Tests
Kerens Library is pleased to announce a new partnership with Driving-Tests.org, one of the nation's top sites for driver's license practice tests. The partnership will strengthen the library's mission to be a vital gateway to information.
Kerens Library is announcing a partnership with Driving-Tests.org, a company dedicated to driver safety and education, to offer free DMV practice tests to library patrons. The new service includes free tests, written specifically based on the state DMV materials, and is the only site of its kind to include accessibility tools that allow users to hear selections read aloud, make them into MP3s, translate pages into other languages, magnify text, and mask sections of the screen for greater visibility on driving practice tests.
These tests include:
– 9 motorcycle practice tests
– 10 CDL (Commercial Driver's License) practice tests
– 3 online driver's manuals (car, motorcycle, CDL)
– An FAQ section with detailed answers to 100+ DMV-related questions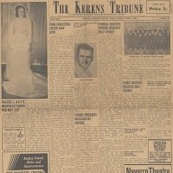 Portal to Texas History – Kerens Tribune
The town, named for Judge R. C. Kerens of St. Louis, was founded in 1881 when the St. Louis Southwestern Railway of Texas built through the county. Presented by the Kerens Public Library, the Kerens Tribune is a weekly newspaper that began publishing in 1892 and continues to serve the community today.  http://texashistory.unt.edu/explore/collections/KERTRI/
2016 Center for Online Education Texas College and Universities Guide


Since online education began in the 1990s and really took off in the 2000s, it has evolved from a rarely-used educational supplement to a viable option not only for adult learners and full-time professionals, but also for first-time students. More schools are now catering to students who cannot or prefer not to attend classes in the traditional, on-campus setting. Students can now earn a fully online degree in nearly every field of study. In an increasingly technological world, it is important for students to learn the skills necessary for not only succeeding in school, but for thriving in the digital workforce. Our company strives to be your main resource in online education, whether you're an experienced online learner, a current student, or are considering attending college online. We provide:
Overviews of schools that offer online programs, state by state.
Guides on what it's like to be an online student, from researching schools, to the application process, to life after graduation. You'll get information on applying to the best schools, registering for classes, completing assignments, working with students across the country, communicating with your professors, balancing school, professional, and personal life, and where you can go after graduation.
A regularly updated blog filled with features, news stories, trivia, fun facts, and more, about college traditions, trends in education, tips about thriving in school, and more.
Reports and research on ed reform and policy that also feature survival and success tips for students, written by our resident PhD, on Inside Online Learning.